ROOF RAZOR TITAN MODEL - 3 FOOT WIDTH (comes with four 6 foot pole sections - 24 feet total)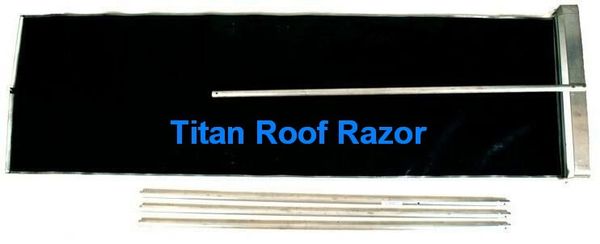 ROOF RAZOR TITAN MODEL - 3 FOOT WIDTH (comes with four 6 foot pole sections - 24 feet total)
Description
The 3 foot wide MinnSNOWta Titan Roof Razor is the answer to home owner or commercial roof snow removal problems. Never again drag a traditional snow rake across your expensive roof.  The Titan Roof Razor rides on 2 inch diameter wheels and easily rolls over and protects your roof.  (If you have a standing seam metal roof where the seam is more than 1 inch in height, you should purchase the 4 inch wheel kit to clear the standing seam.)  Never have to pull the snow towards you again - Simply push and cut the snow and it will come sliding off the roof.
THE ONE ITEM MOST BUYERS REGRET NOT GETTING AT THE TIME OF ORIGINAL PURCHASE IS 1 OR MORE ADDITIONAL POLE SECTIONS.  PLEASE CONSIDER YOUR NEEDS CAREFULLY AS A COMBINED PURCHASE WILL SAVE YOU ON SHIPPING.
If the Roof Razor is being purchased for use on a 2 story or higher roof, it is STRONGLY RECOMMENDED consideration be given to purchasing one or more 6 foot Pole Extensions and the Angle Kit.  The Roof Razor comes standard with 24 feet of reach but this may not be enough for a higher roof.
If the Roof Razor is being purchased for heavy and continuous commercial use, it is STRONGLY RECOMMENDED to also purchase the Slide Replacement Kit.
The MinnSNOWta Titan Roof Razor's head is constructed of 3/16 inch aluminum flat stock and is 3 feet wide and 6 inches high. The overall assembled length is 24 feet.  A 10 foot long snow slide is attached with a bungee cord to the third pole section.  The strong and lightweight aluminum pole system consists of four 6 foot snap connected sections.  Shipping weight is 15 pounds.
The MinnSNOWta Titan Roof Razor comes with 4 aluminum pole sections, each pole measuring 6 feet in length or 24 feet total.  They are easily joined or un-joined to increase or decrease to the needed length and allow for compact storage when finished.
Additional pole sections may be purchased as an option.  If you purchase additional pole sections with your order you will save time and money on shipping.